---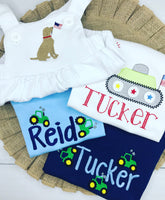 Sibling Box
What you are getting: 
2 personalized garment pieces per child 
How Does It Work?
You will let us know what you little one likes in the notes at checkout. Tell us your favorite type garments (shirts, dresses, bubbles, rompers, tank, polos, etc.) and we will do the rest. We will choose the outfit style and color based off of the information you provided. 

In the notes, please include: 
1. Childs Age, Size, and Gender
2. Garment style preferences 
3. Childs Name and Initials (First, LAST, middle)
4. Any of your Child's favorites  (animals, hobbies, colors, activities, etc.)
5. Do you want exact matches for each sibling or coordinating pieces? 

Please indicate if you DO NOT want a holiday item. 

There will be NO guarantee that your box will include ALL of your favorites listed. IF you have DISLIKES, please let us know those as well. 
Current Turnaround time is 3-4 weeks.