---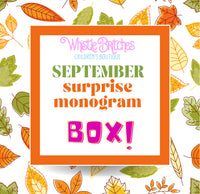 CUSTOM  MONOGRAM Surprise BOX 

Product Details. 
This listing is for a monthly SURPRISE monogram box. With this purchase you will receive 2-3 personalized clothing items plus one fun extra. ($75+ value)

How Does It Work?
You will let us know what you little one likes in the notes at checkout. Tell us your favorite type garments (shirts, dresses, bubbles, rompers, tank, polos, etc.) and we will do the rest. We will choose the outfit style and color based off of the information you provided. 

In the notes, please include: 
1. Childs Age, Size, and Gender
2. Garment style preferences *** please indicate if you want Long Sleeve 
3. Childs Name and Initials (First, LAST, middle)
4. Any of your Child's favorites  (animals, hobbies, colors, activities, etc.)


Please indicate if you DO NOT want a holiday item. 

There will be NO guarantee that your box will include ALL of your favorites listed. IF you have DISLIKES, please let us know those as well. 


No Returns or Exchanges. 
To renew, checkout monthly. 

Order DEADLINE. 
All orders are due by the last day of the preceding month for your order. 


Shipping: Boxes Ship all through the month of September. 

Please NOTE, items will be shipping throughout the month in order that payment is received. Therefore, be sure to order ahead for holidays and special occasions. 

Example: SeptemBer BOXes with contain FALL, pumpkin, and Halloween themed Items 

Can't Wait to SURPISE YOU!!!. 

FOR LOCAL PICK UP - ATHENS, AL
CODE: LOCAL AT CHECKOUT