---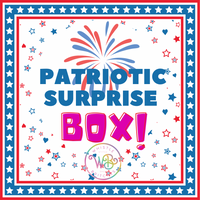 CUSOM MONOGRAM Surprise BOX 

Product Details. 
This listing is for a SURPRISE monogram box. With this purchase you will receive 3-4 personalized clothing items.  ($100+ value)

How Does It Work?
You will let us know what you little one likes in the notes at checkout. Tell us your favorite type garments (shirts, dresses, bubbles, rompers, tank, polos, etc.) and we will do the rest. We will choose the outfit style and color based off of the information you provided. 

In the notes, please include: 
1. Childs Age, Size, and Gender
2. Garment style preferences 
3. Childs Name and Initials (First, LAST, middle)
4. Any of your Child's favorites  (animals, hobbies, colors, activities, etc.)
*** Character items will not be included. To receive a character item, you would need to purchase a Magic Box****

There will be NO guarantee that your box will include ALL of your favorites listed. IF you have DISLIKES, please let us know those as well. 


No Returns or Exchanges. 


Will begin shipping in Early MAY 

Please remember dresses, rompers, bubbles are complete outfits and have a higher value than a shirt. You box value will always exceed the price paid.